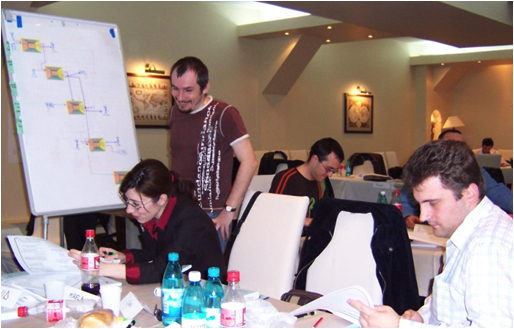 This workshop-oriented session is the most practical, real-world oriented course of its kind. It is also the longest running session on process modeling, analysis, and design in the world. It is the leading "how-to" for tactical aspects of process improvement project work.

Attendees have a unique opportunity to gain knowledge first-hand from an instructor who is one of the pioneers in training and consulting in business process. It is completely vendor-independent and based on knowledge gained from 20 years of consulting and training with hundreds of organizations around the world. No other offering is as complete or comprehensive in its approach.

Any organization that has been involved in a merger or acquisition or just wants to become more efficient, effective and adaptable in the current economic environment will benefit from the knowledge and skills that participants gain in this course.
What Makes this Course Unique..
This course is based on practical real-world knowledge, not theoretical concepts. It is organized around a case study that will be developed by attendees in small-team intensive workshops. Attendees will gain practical knowledge and techniques that can be used as the basis for accelerating their own projects. The course utilizes a hands-on and business-oriented approach with technology discusses as a support mechanism. The content is comprehensive, in-depth and universally applicable, enable attendees to immediately apply what they learn to any process in any industry or organization. Past participants using these techniques have achieved improvements to process efficiency in excess of one thousand percent.
Communicate and sell process concepts and change in an organization
Understand powerful techniques for process modeling and analysis
Define and evaluate current organizational processes
Learn how to involve the business and technology groups in process improvement
Appreciate the importance of change management in process improvement
Gain insight into the various modeling notations, including BPMN
Obtain valid process information from various audiences
Prevent common pitfalls in process improvement projects
Properly manage the "people" aspect of process redesign
Staff of organizations involved in mergers or acquisitions
Business Process Management (BPM) Team Members
IT Strategist
Business Analyst
Systems Analyst
Enterprise Analyst
Consultant
Process Analyst
Operations Manager
Project Manager
TQM and Six Sigma Project Managers and Team Members
Change Agents who must influence cultural and behavioral transformation
HR Professionals dealing with the introduction of new competencies and organization designs
Anyone involved in process change
Introduction to Business Process Management
Defining a common language for business process
A clear, concise definition of process
Basic concepts of a process architecture
Introduction to a framework for successful process-based change
Integration of business process management with technology
Define Process Projects
Identification of process stakeholders
Defining a process performance strategy
Creating and controlling project scope
Getting the business & technology groups involved
Learning how to deal with fuzzy process projects
Understanding the unique aspects of process projects
Introducing change in an organization
Case Study: Workshop 1 - Defining Project & Process Scope
Basic Concepts of Process Models
Identifying modeling standards
Defining IGOE's (Input, Guide, Output & Enabler)
Modeling the "right" process information
Documenting process quickly and accurately
Case Study: Workshop 2 - Modeling Process
Information Gathering and Facilitation
Identifying sources of process knowledge

Building buy-in for change

Preparation for: Interviews vs. Facilitated Workshops

Gathering process information using facilitated workshops

Characteristics of excellent facilitators
Guidelines to enhance listening skills
Handling difficult situations

Obtaining process knowledge from specific audiences

Executives
External Stakeholders
Workers

Information gathering tools and techniques

Checklists
Documentation
Roles

Best practices
Case Study: Workshop 3 - Modeling Process
Modeling Notations
Defining types of process models
How and when to use BPMN
Modeling exceptions
Modeling ad hoc process
Understanding the relationship between processes and business rules
Creating process models that help sell change
Measuring Processes
Determining the appropriate measurements
Defining measurement criteria
Designing measurement techniques
Importance of balances measuring
Case Study: Workshop 4 - Measuring Process
Analyzing Processes
Prioritizing the focus of analysis
Understanding how to use a good process model to identify opportunities
Performing gap analysis techniques
Utilizing Six Sigma analysis techniques
Implementing Use Cases
Finding "root cause" using different techniques
Identifying and Implementing "quick wins"
Case Study: Workshop 5 - Analyzing a Process
Creating New Processes
Researching innovative process ideas
Benchmarking process information
Building evaluation criteria
Creating innovative solutions
Evaluating alternatives
Case Study: Workshop 6 - Creating a Process
Designing New Processes
Defining the design team
Guidelines for process design
Method for creating completely new processes
Validating New Processes
Gaining by-in for process change
Developing and applying scenarios
Creating prototypes
Running simulations
Selection of Tools - Reference Section Only
Aligning process improvement activities with requirements
Aligning requirements with tool capabilities
Building the evaluation matrix
Sources for tool specific information